Two-masted sailing schooner Meander
Meander was built in 1946 in Hamburg Finkenwerder in Germany as a fish cutter under ice certification. The ship fished until the nineties. Afterwards it was sold and converted into a sailing ship in 1995. The conversion has been carried out very carefully whilst meeting the most modern requirements. Meander sailed as a charter ship worldwide until 2007 and it also sailed for two years on Antarctica. The ship has passed storms around Cape Horn encountering wind forces of 12 without problems and is a well-tried and safe ship.
After 2007, a new owner used the ship privately and luxuriously furnished it.
In 2016 we bought the ship and brought it back for a Dutch worldwide certification. The ship has now been inspected as a new ship and converted into a charter sailing vessel with accommodation for 12 guests.
Properties
The traditional rigging and the robust underwater hull make this two-master a particularly safe sailing ship on sea. Because of its form and length, the Meander moves smoothly over the water. The easy handling of the sails and the good sailing characteristics mean that people without sailing experience can easily and actively participate in sailing.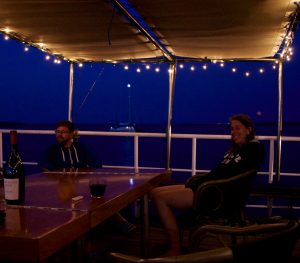 Comfortable accommodation
Our finest place on board is the great seating and dining area on the Meander's campaign deck – Protected from the sun or rain if necessary. Furthermore, the front and tween deck provide additional seating.
There is air conditioning on the ship for warm regions and when it is cold, what might happen on some trips, we have a good central heating. A small sauna is available for enthusiasts.
In the deckhouse there is a cozy salon with a separate kitchen and a view of the surroundings. A beer tap and central cooling with soft drinks and wines are available. Below deck are the comfortable double cabins with a sink each. Two separate showers and three separate toilets are also installed.
The wheelhouse
The wheelhouse is the center of the ship and here you will find all equipment to be able to sail safely over the world's oceans. It is also a wonderful place to stay, steer, shelter or join in the watch.
Navigation equipment
2 marifoons with dsc
Hf and Mf transmitter
Radar
2 depth gauges
Immersat c
Navtex
Satelite phone
AIS
GPS compass
2 magnetic compasses
Board computer with plotter
Autopilot
Sateliet T.V. receiver  
Technical data
Technical data
Length over all: 30 m
Width: 6.70 m
Draft: 2.85 m
Sail area: 400 m²
Engine: MAK
The engine
A four-cylinder MAK M423 from 1960 is the propulsion of the ship and it is a reliable marine engine. You can really enjoy to watch and listen to this slow runner (265 rpm). The 300 PS horsepower make the Meander a powerful and economical ship in terms of the engine. The engine runs slowly and the exhaust sound is well damped, which is pleasant for the people on board.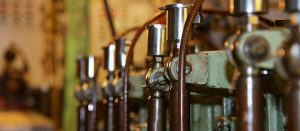 Accommodation
Max. 12 people for overnight stays and 6 double cabins.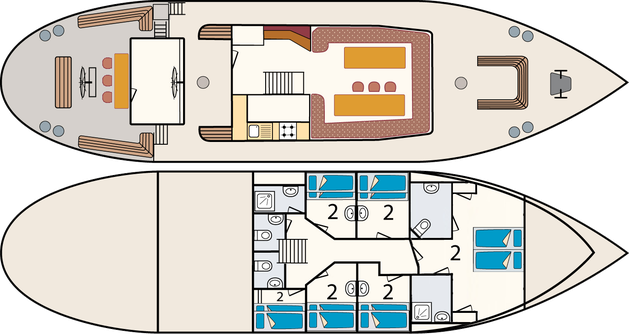 Sanitary
2 showers
3 toilets
Kitchen
Stove
Oven
Microwave
Refrigerator
Freezer
Coffee machine
Kettle
Remaining
Central heating throughout the ship
Sauna
Air conditioning
Wash basin in every cabin
Bed linen included
Beer tap
Washing machine
Dryer